Picture this: you're driving down the road in the middle of a heavy thunderstorm or blizzard. In an instant, you find yourself skidding out of control, sliding down an embankment, or drifting uncontrollably.
Here's another situation. You've been working all day, and it's finally time to go home. You get behind the wheel of your car and try to start it, only to find that your battery is dead, or maybe your tire is flat.
In situations like these, it's important not to panic. You could probably call roadside assistance, but there's another way to make sure you're prepared: having a car emergency kit.
Your car survival kit doesn't have to be complicated or full of expensive items, but there are some essential items to have in your car. As automotive professionals, Kennedy Transmission has put together a list of items to pack for any trip, whether it's a five-minute trip to the grocery store or a five-hour visit to another city.
Essential Items for a Car Preparedness Kit
What goes into your car preparedness kit? It largely depends on where you live, but the following items are must-haves:
First Aid Supplies
Having a well-stocked first aid kit in your car is of utmost importance when it comes to being prepared for any unexpected emergencies or accidents on the road. Some essential first aid supplies to include in your car kit are:
Sterile gauze pads
Adhesive bandages
Antiseptic wipes
Scissors
Tweezers
Disposable gloves
Personal medications (epipen, inhaler, etc.)
Including a first aid manual or guide can also be invaluable in providing guidance on how to handle different types of injuries. By having a well-stocked first aid kit in your car, you can ensure that you are prepared to handle minor injuries or provide initial care until professional medical help arrives.
Other Emergency Items to Keep In Your Car
First aid gear is important, but it's not the only necessity for your car preparedness kit. Jumper cables take up almost no room and can be used to jump-start a vehicle with a dead battery. Alternatively, you might consider a battery pack with attached cables. A tire gauge is another important tool as it allows you to check the air pressure in your tires, ensuring they are properly inflated for safe driving. Additionally, a multi-tool is a versatile item that offers functionalities like a knife, pliers, screwdriver, and more.
Food and Water
Having non-perishable food and water in your car preparedness kit is crucial in case of emergencies when you may be stranded. When selecting food items for your kit, opt for options that have a long shelf life and do not require refrigeration. Some suggestions for food items that can be included in your car preparedness kit are:
Granola bars or energy bars
Dried fruits and nuts
Crackers or rice cakes
Jerky or beef sticks
Meal replacement bars or shakes
Individual packets of condiments and seasonings
Additionally, it's important to include an ample supply of bottled water or water pouches in your car kit to stay hydrated during unexpected situations.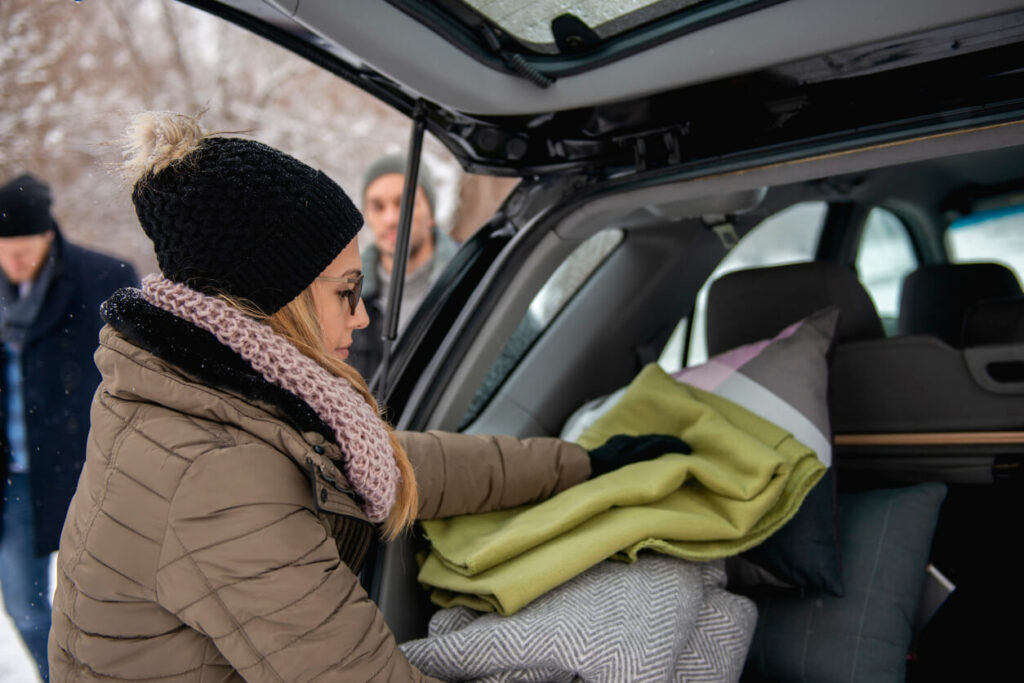 Extra Clothing and Blankets
Having extra clothing and blankets in the car is important for several reasons, including:
Emergency situations: Having extra clothing and blankets can provide warmth and comfort until help arrives.
Weather changes: Weather conditions can change rapidly, especially during long drives or road trips.
Comfort during travel: Having extra clothing and blankets can make your journey more comfortable, especially during long drives or overnight trips.
Changing clothes discreetly: If you need to change clothes on the road, having a towel, blanket, or oversized dress to throw over yourself can provide privacy.
Roadside emergencies: Extra clothing and blankets can be used to signal for help or provide insulation in case you're stranded on the side of the road.
Additional Items to Consider
While the above items make sense for almost every car emergency kit, there are still some things you might want to use (if there's enough room). They include:
Roadside Assistance Items
In some cases, you'll want additional items for your emergency kit that can either help you speed up the process of getting back on the road or keep you safe. Road flares or reflective triangles can alert passing cars or emergency vehicles of your location and that you need assistance. A portable air compressor can help you quickly fill a tire enough to safely move your car out of harm's way.
Weather-Specific Items
Seasonal changes in weather mean swapping items in and out of your car survival kit. In the winter, it may not be safe to run your vehicle's engine for a long period of time. You'll want to add important tools like ice scrapers and a small snow shovel to help you out. You can also add hand warmers, an extra blanket or two, and even a sweater to keep you warm.
Personal Documents and Contact Information
Having personal documents and emergency contact information readily available in case of an emergency can make a big difference in notifying important people about your situation. If you can, keep copies of identification and emergency phone numbers close at hand.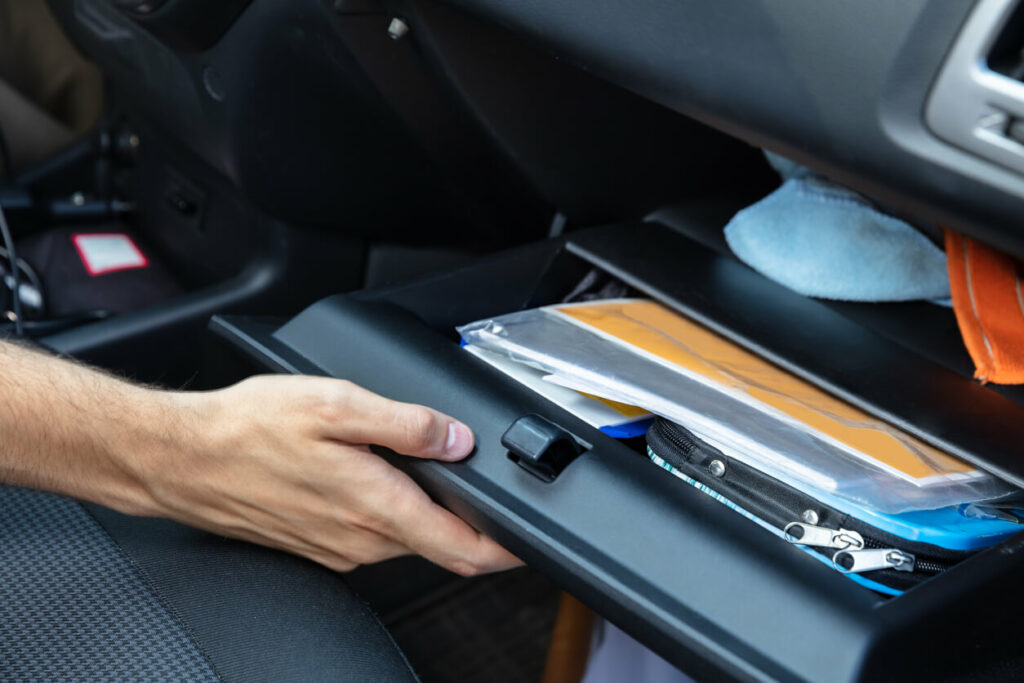 Regularly Checking and Replenishing Supplies
An emergency supply kit is only effective if you keep it maintained. Regularly check the items and their expiration dates, and remove anything that isn't current. If you use one of the items in the kit, replenish it as quickly as possible. It can also be helpful to keep a sheet of paper or list close at hand that has a list of the items in the kit and the last time they were swapped out.
Storing and Organizing the Car Preparedness Kit
A watertight plastic bin makes an excellent place to store your car emergency kit, but you'll want to ensure it's close at hand. If your vehicle has a separate trunk but fold down seats in the back, make sure you know how to access them in an emergency. If you know your travel itinerary will take you through rough weather, consider moving the kit to the backseat or even the passenger seat ahead of time.
Build your emergency kit and stay prepared for all kinds of accidents.
Your car's emergency kit can be a literal lifesaver if you're involved in a crash or have car trouble. A proper kit can do wonders for keeping you warm and safe while you wait for professional help to arrive.
Another way to prepare yourself is to stay on top of regular maintenance. When you take care of oil changes, brake service, tire rotations, battery changes, and other mechanical upkeep for your car, you'll find fewer surprises when out on the open road.
If it's been a while since your car's last checkup or you have concerns about a maintenance issue, visit Kennedy Transmission today. Our friendly team of technicians can help take care of any issues you have with your car, both unexpected and routine. We can even help you decide what to put in a car emergency kit. Find which of our Minnesota auto shops is closest to you to get started today!