Waite Park MN Auto Repair and Maintenance
Auto Repair & Maintenance in Waite Park, MN
Situated on the corner of 11th Avenue South and 1st Street South, Kennedy Transmission in Waite Park, MN, provides professional auto maintenance and repairs for your vehicle. Just a short drive from Division Street, Highway 75, and the city of St. Cloud, MN, our Waite Park facility is an official NAPA Auto Care Center with a team of Automotive Service Excellence (ASE) and Automatic Transmission Rebuilders Association (ATRA) certified technicians.
When you partner with Kennedy Transmission in Waite Park for your vehicle repair needs, our staff will take care of your car as if it were one of their own. With over five decades of experience fixing automobiles throughout Minnesota, we can ensure your vehicle will be diagnosed properly and repaired with the utmost attention to detail. Protecting your investment is our number one priority, so you can be sure you're receiving the highest quality work when you drop your car off with us.
Kennedy Transmission in Waite Park
Monday – Thursday
8:00 AM – 5:30 PM
Friday
7:30 AM – 4:30 PM
FREE 24 Hour
Emergency Towing!
After Hours:
Waite Parke Automotive (320) 251-4086
(*Within Local Area w/ Major Transmission Repair.)

Complete Auto Services in Waite Park, MN
From vintage muscle cars to family minivans, our auto technicians in Waite Park know the ins and outs of every vehicle we service.
Our comprehensive vehicle maintenance and repair services include:
Whether you have squeaky brakes or a faulty transmission, we can repair cars of all makes and models and get you back out onto the road in no time.
Get the Job Done Right with Kennedy Transmission
At Kennedy Transmission in Waite Park, MN, you can trust our auto technicians to only make recommendations on issues that need to be addressed. We take pride in our honest commitment to all our customers, giving them peace of mind to drive off our lot in a safe, secure, and repaired vehicle. For all your vehicle service or repair needs, stop by Kennedy Transmission or contact us today to receive your free quote!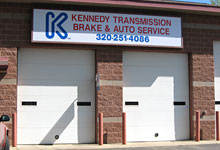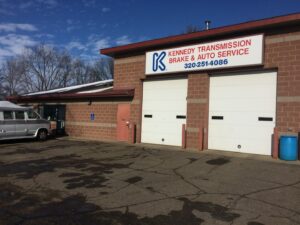 Frequently Asked Questions
What's Wrong With My Transmission?
There are many telltale signs that you are experiencing automatic transmission problems. Check out 4 of the most common signs your automatic transmission needs service, and give us a call to schedule your transmission repair services in Waite Park today.
Can I schedule brake repair services in Waite Park, MN?
Yes! We're trained in repairing a wide variety of brake types and systems and can diagnose and repair your brakes in no time.
Can I get my oil changed in Waite Park, MN?
Yes, you can. Along with our car repair services, we also offer oil change services at our Waite Park location.
How Do I Check My Automotive Transmission Fluid Level?
Don't see a service you need??
We also offer a wide range of other total car care services
Over 30 years of Transmission Service and Repair Experience. ATRA Certified Transmission Rebuilder.