Save on Your Next Service!
As experts in car care since 1962, we know just how expensive it can get to maintain your vehicle. Even though we do everything we can to keep our prices down, we're still always offering ways to save on every service! Simply print out the coupon or bookmark this web page on your cell phone to show us when you drop your car off.
We frequently update coupons depending on the time of year, so check back often to find new ways to save!
Cars for the Cure
For over 50 years, Kennedy Transmission Brake & Auto Service has been keeping cars on the road and in great working condition. We've been able to stick around so long though because of customers like you who keep coming back!
We're as much a part of the many communities we serve as the folks who live there, and because of that, we're doing our part to improve the lives of those around us. That's why we've joined forces to fight breast cancer by raising awareness. The best part? It helps you save money at the same time!
It works like this: You purchase a savings card to use on regular and specialty services, and we donate $10 to breast cancer awareness. So you're helping save lives and saving yourself money at the same time!
Services on the card include a FREE lube oil and filter change, FREE tire rotation, FREE battery terminal cleaning, FREE wiper blade with purchase, and big discounts on transmission services, brake service, radiator flush and more. This coupon card is worth hundreds of dollars, and it's yours for only $69.95!
It's simple to get your own; just pick one of these up with the front desk attendant. Make sure to ask them more details on how the card works!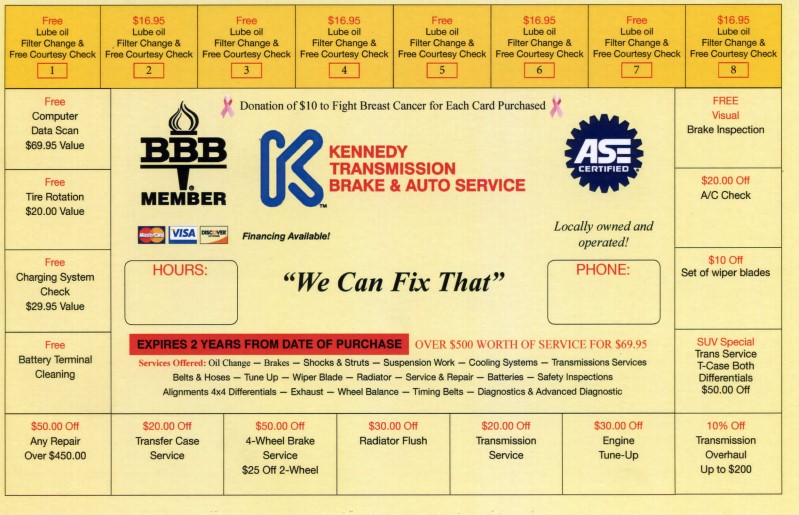 © 2017 Kennedy Transmission Brake & Auto Service
Contact Phone:
952.476.4338 br> Visit the store locator page for direct location phone numbers